Boiler replacement based in Bognor Regis
Offered throughout the surrounding area including Chichester and Littlehampton
If you're in need of a new boiler, then you've come to the right place.
We are Gas Safe registered, so you can be assured that our engineers have completed all the training needed to help you install a new boiler in your home. When you call us for our boiler installation services, we will guide you through choosing the right boiler for your home too. Our customers highly appreciate this about our service, do not just take our word for it, head over to our reviews page and read through the reviews left by our customers throughout Bognor Regis, Chichester, Littlehampton and the surrounding areas.


Want an instant estimate on a new boiler?
In case you're interested, we offer a free instant estimate on a new boiler installation with our online tool. To get started, click the button below, we'll ask you a few questions about your property and provide you with our recommended boilers and estimates prices based on your property type:
Need a boiler replacement in Bognor Regis or the surrounding areas?
There are a few reasons why you might need to have your boiler replaced. You might have an old, inefficient boiler that is getting more and more costly to run and repair. Or you might have had your boiler give up on you completely and will need a new boiler installed in your home.
Whatever the reason might be, we're here to help!
For a range of examples of previous boilers we've installed, please check out our website's Gallery page.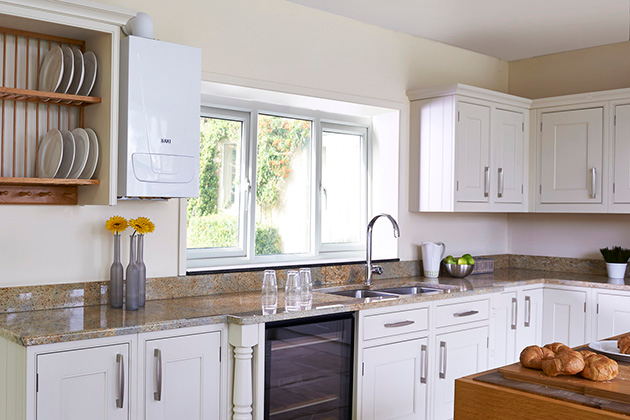 Get in touch for a new boiler
If you'd like for us to provide you with a free, no obligation quote on a new boiler, then please do not hesitate to get in touch with our team today.
This service is offered throughout Bognor Regis and the surrounding areas including Chichester and Littlehampton, so as long as you're local to us, we'll be available.
To contact us, you can give us a call on 01243820474. Alternatively, you can send us a message using our website's contact form on our Contact page.
Thank you and we look forward to hearing from you.
What boiler or system do I need?
People in the property
How many people are there?
How old are they?
What do you want and need?

What is the budget for your new boiler or system?
The Property
How big is the property?
How many bathrooms are there?
What space is available for the new equipment?
The existing system
What type of system do you have?
How many radiators are there?
Is the water pressure good enough?
When fitting a new boiler or central heating system it is important to consider who is going to be using it. If you live on your own you only want to heat the water that you use so a combination boiler maybe just what you need. If you live with four other people, you may need to shower at the same time, in which case an unvented hot water cylinder would suit your needs.
Do you live in a flat with little storage space? A combination boiler will fit in a kitchen cupboard and provide you with all the heating and hot water you need. Your house may have three bathrooms and could be using them all at one time. The system needs to be designed and fitted to accommodate its intended use.
Does your current system meet your needs? If your house has that room that's never warm or your bath tap just dribbles out then now is the time to sort out these problems. The right boiler and system should give you the hot water performance you want while keeping all your rooms at just the temperature you require.
Plan for the future
If you have a house full of young children then the system you have installed will need to be designed to cater for them in the best possible way, When your family grows up and are likely to be leaving home soon then it may be worth considering a different type of system that will suit your needs once they have gone.
What we want
Here at The Sussex Heating Care Company LTD, when we take on an installation job, its not just about fitting a new boiler or changing your radiators. We want to spend time finding out about you and your specific needs. We will design a system that meets your wants and needs and then fit that system to ensure that on completion and in the future you really appreciate how well the central heating works and does exactly what you want it to do. When we've finished you will want your friends and family to use us too, so they get the same great results as you.
What do our existing customers say?
Daniel from Bognor Regis
"its saved me a lot of money, my radiators get hot so quickly and it doesn't wake me up like the last system"
Ann from Oving
"its so neat and small, you would never know it was there and the shower is so much better"
Kevin from Arundel
"i've saved a fortune on gas, they owe me money for once."
Brian from Bognor Regis
"I find it so easy to use, i'm really pleased"